What is the most likely diagnosis?
39 year-old with recent history of trauma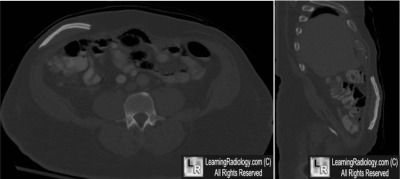 Axial and sagittal CT scans of abdomen with bone window
Ossified scar
Heterotopic ossification
Retained foreign body
Skull flap
Peritoneal drainage catheter
Additional Image - Axial CT scan of another body part



Answer:
.

4. Skull flap in abdominal wall
.
.
More (Click Discussion Tab)


Skull Flap in Abdominal Wall
General Considerations
On occasion, a portion of the skull may be emergently removed to relieve increased intracranial pressure (decompressive craniectomy)

Mostly performed for acute subdural hemorrhage

The remaining dura mater may be sewn together and the patient may wear a protective helmet