What is the most likely diagnosis?
47 year-old male with knee study unchanged in 4 years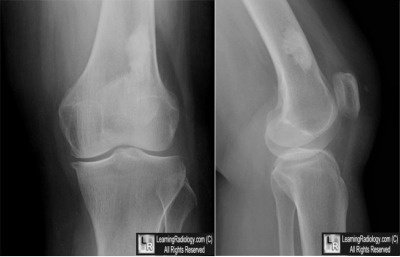 Frontal and Lateral Radiographs of Left Knee
Bone Infarct
Enchondroma
Giant Bone Island
Metastasis from Renal Cell Carcinoma
Osteopoikilosis
Additional Image - None

Additional Images
None



Answer:
.

3. Giant Bone Island
.
.
More (Click Discussion Tab)
Giant Bone Island
General Considerations
Bone islands (enostoses) are areas of mature compact bone in cancellous bone in the medullary cavity

Usually oriented with its long axis parallel to the cortex

Most common in pelvis, proximal femurs and ribs

May change in size over time, but change usually takes years