What is the most likely diagnosis?
42 year-old with chronic headaches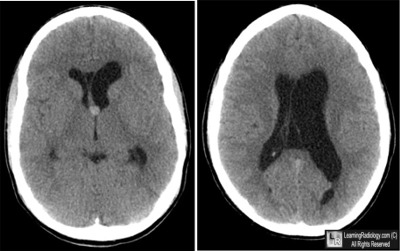 Unenhanced axial CT scans of head
Normal pressure hydrocephalus
Menigioma
Bullet wound
Metastases
Colloid cyst of the 3rd ventricle
Additional Images - T1 and T2 FLAIR MRI images of brain



Answer:
.

5. Colloid Cyst of the 3rd Ventricle
.
.
More (Click Discussion Tab)


Colloid Cyst of the Third Ventricle
General Considerations
Benign, epithelium-lined cysts

Most common tumor of the third ventricle but rare overall

Usually found in adults in their 40s or 50s

Arise from

anterosuperior

aspect of 3rd ventricle near the foramina of

Monro

Cysts are usually filled with a thick mucus-like material although some are filled with thinner, serous fluid