What is the most likely diagnosis?
41 year-old male, pre-op for hernia surgery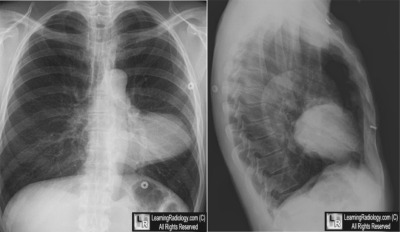 Frontal and Lateral Chest Radiographs
Tetralogy of Fallot
Pericardial cyst
Hypertension
Congenital defect in pericardium
Ventricular aneurysm
Additional Images - No additional images

Additional Images
No additional images



Answer:
.

4. Congenital Defect in the Pericardium
.
.
More (Click Discussion Tab)


Congenital Defect in the Pericardium
General Considerations
Rare absence of a part or all of the pericardium

Due to failure of pericardial development secondary to premature atrophy of the left duct of Cuvier (cardinal vein) which then fails to nourish the left pleuropericardial membrane

Male:female ratio of 3:1

May be detected at any age but most commonly in low 20's