What's the most likely diagnosis?
42 year-old with crampy right lower quadrant pain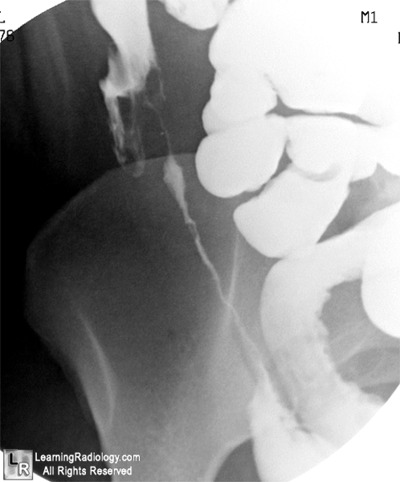 Small Bowel Study-Close-up Right Lower Quadrant

Carcinoma of the ileum
Lymphogranuloma venereum
Crohn's Disease
Retroperitoneal fibrosis
Ulcerative colitis
Additional Image - Small Bowel Study-Same finding, different patient



Answer:
.

3. Crohn's Disease - String Sign
.
.
More (Click Discussion Tab)

String Sign - Crohn's Disease


General Considerations
Finding seen on contrast studies using primarily barium

Originally described in the terminal ileum in Crohn's disease and that is its most common usage

Initially, it is caused by severe spasm secondary to irritability of the loop producing the appearance of a frayed cotton string

At first, edema and spasm narrow the loop but the narrowing is at least partially distensible

Eventually the wall of the ileum may become fibrotic and the lumen fixed in diameter