What's the most likely diagnosis?
75 year-old with abdominal pain; the sign shown is called the: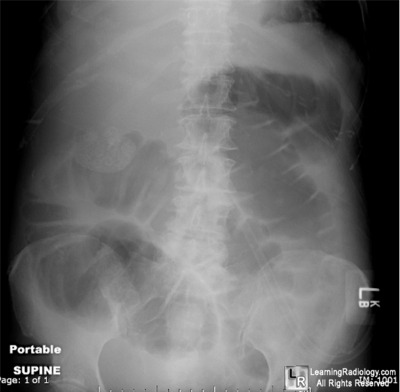 Supine radiograph of abdomen (disregard the gallstones)

Pawnbroker's sign
Sigmoid elevator sign
Crescent sign
Rigler's sign
Colon cutoff sign
Additional Image - Contrast-enhanced CT of abdomen



Answer:
.

5. Colon cutoff sign (here shown in mesenteric ischemia)
.
.
More (Click Discussion Tab)

Colon Cutoff Sign


General Considerations
The pattern of bowel gas in which there is air in a slightly dilated transverse colon up to, but not beyond, the splenic flexure

Originally described on conventional radiography, it has the same appearance and implications on CT

In pancreatitis, the disease in which it was described, it is caused by inflammatory exudate from the pancreas which infiltrates the transverse mesocolon via the phrenicocolic ligament

This produces spasm of the transverse colon or actual physical narrowing of the splenic flexure