What's the most likely diagnosis?
52 year-old undergoing CT for RLQ pain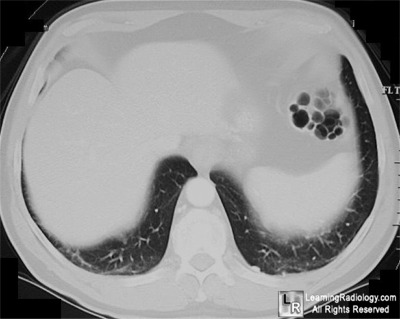 Axial CT of Upper Abdomen- Lung Window

Amiodarone toxicity
Neurofibromatosis
Pneumatosis cystoides intestinalis
Colitis cystica profunda
Cirrhosis
Additional Image - Axial CT of Lower Abdomen



Answer:
.

3. Pneumatosis cystoides intestinalis
.
.
More (Click Discussion Tab)

Pneumatosis Cystoides Intestinalis


General Considerations
Gas in the bowel wall

Occurs as a primary and secondary forms

Primary form is uncommon and is also called pneumatosis cystoides intestinalis

Secondary form (85%) occurs with...