Retained Sponge
Gossypiboma


General Considerations
Retained surgical sponges are an uncommon event

Medical term for a retained sponge is gossypiboma

From Latin gossypium, for cotton, and

Swahili boma, for place of concealment

Surgical sponges are used for

Studies have shown that they are more likely to be left during

Emergency surgery

Surgery on obese patients

An unexpected change in surgical procedure

OR personnel use sponge and instrument counts to prevent accidental closure of wound with retained foreign body
Pathophysiology
Clinical Findings
Imaging Findings
Conventional radiographs are generally used as study of first choice for detecting surgical foreign bodies

Sponge itself may be faintly visible on radiographs performed outside of the body but sponge will be visible inside the body because of its opaque marker

All sponges commercially manufactured in the US contain radiopaque markers

Therefore, all such sponges should be visible on conventional radiography
Differential Diagnosis
Complications
Abscess development

Intestinal obstruction

Fistula formation
These are links to three websites/articles with a gallery of images of the radiographic appearance of retained surgical materials:
RadioGraphics 2000
http://radiographics.rsnajnls.org/cgi/content/full/20/6/1665
AJR 2003
http://www.ajronline.org/cgi/content/figsonly/180/2/481
UCSF Website
http://www.radiology.ucsf.edu/instruction/abdominal/ret_objects7.shtml#1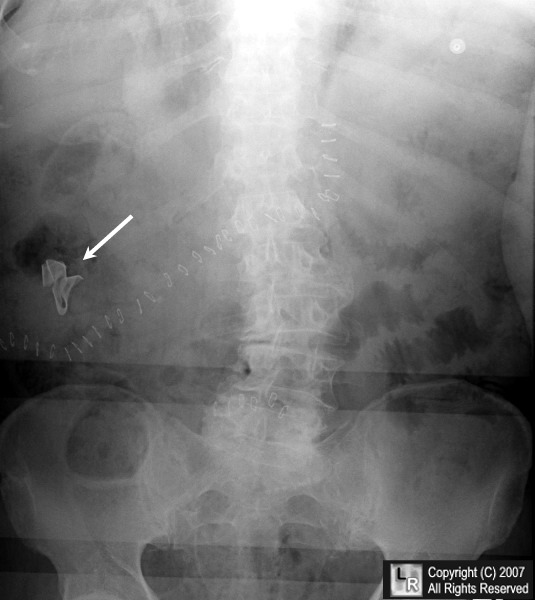 Retained laparotomy sponge. The white arrow points to a radiopaque density that is characteristic for the marker placed in a surgical laparotomy sponge in order to make it radiographically visible. The sponge was removed and the patient had an uneventful recovery.
For additional information about this disease, click on this icon if seen above.


For this same photo without arrows, click here
Imaging of Surgical Paraphernalia: What Belongs in the Patient and What Does Not Wolfson K, Seeger L, Kadell B, and Eckardt J RadioGraphics. 2000;20:1665-1673
Retained instruments and sponges by Brian Camazine
Verna C. Gibbs, MD Department of Surgery University of California, San Francisco