Emphysematous Cholecystitis


General considerations

Acute infection of gallbladder caused by gas-forming organism

In about 1/3 = clostridium perfringens

Also E. Coli and Klebsiella

Rare – only 1% of all cases of acute cholecystitis

Occurs more often in men

Mostly are elderly patients (>60) with diabetes

Vascular compromise of the cystic artery may play a role in the etiology

Gas may occur in the wall and/or the lumen

May spread to pericholecystic tissue

Rarely, gas may escape into the bile ducts

Clinical findings

Imaging findings

Treatment

Definitive care involves surgical intervention

Preoperative percutaneous drainage may improve survival

Emergency cholecystectomy

Complications

Perforation of the gallbladder

Emphysematous Cholecystitis. Supine view of the abdomen shows air in the wall (blue arrows) of the gallbladder (GB). There is also a lucency within the lumen of the gallbladder (GB) suggesting air inside the lumen. There is no air-fluid level visible because this radiograph is obtained supine with a vertical x-ray beam. Just superior to the gallbladder is another collection of air (red arrow) that represents a pericholecystic abscess. The yellow arrow points to the end of a PEG tube in the stomach.
For this same photo without the arrows, click here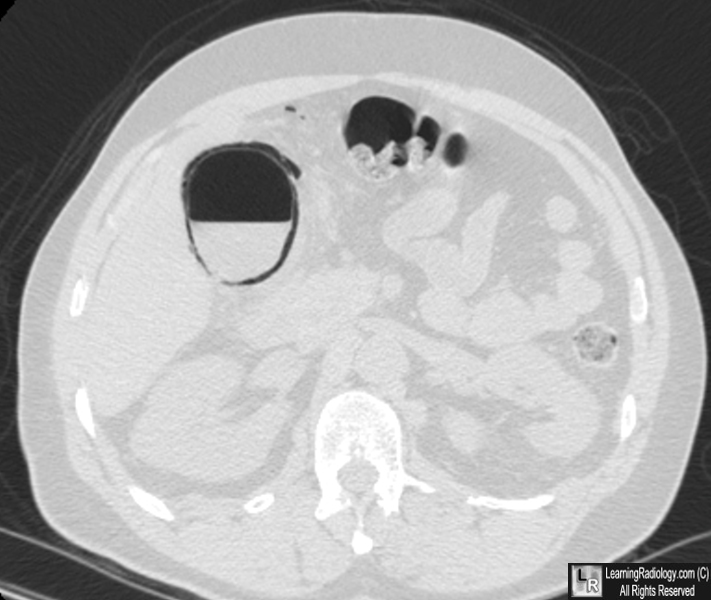 Air is contained both within the gallbladder lumen (see air-fluid level) and the wall of the gallbladder (curvilinear lucency surrounding gallbladder).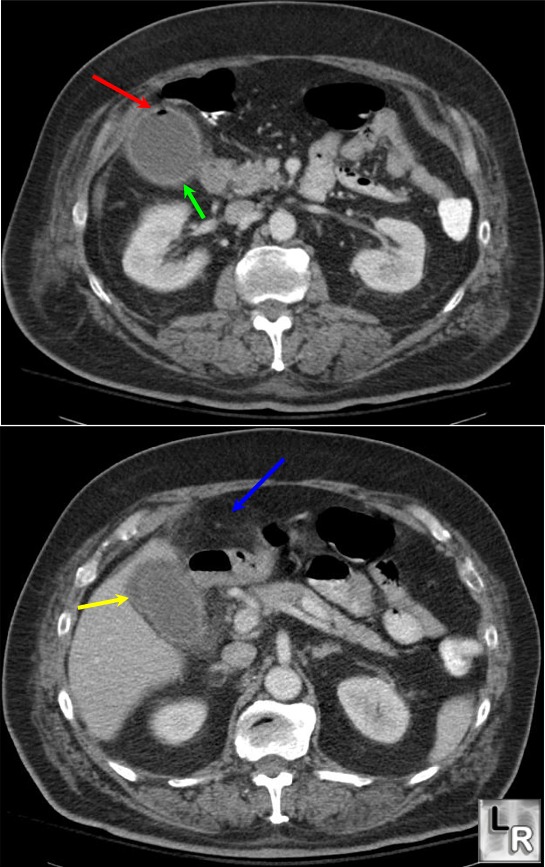 Emphysematous cholecystitis-red arrow points to air in lumen of gallbladder; green arrow
points to thickened gallbladder wall; blue arrow points to pericholecystic stranding;
yellow arrow points to pericholecystic fluid
Gore, R. and Levine, M: textbook of Gastrointestinal; Radiology, W.B. Saunders, 2000.
Moss, A., Gamsu, G. and Genant, H.: Computed Tomography of the Body. W.B. Saunders,1992.